MILITARY POSTAL HISTORY SOCIETY
MPHS AUCTION 216
Closing 12 September 2020
Submit Bids to:
Roger Santala
2244 Fairview Place
Billings, MT 59102-0614
rogrmt6kekj3kj4kj5kj2@gmailDkjdh3h54858t85y666.com9dh3he928e75757
Operated by the Military Postal History Society:
Bidders: The dollar amount with each Lot represents a suggested bid. The minimum bid is one half that amount. Bid increments are $0.25 up to five dollars, $0.50 up to $10, $1 up to $20, $2 up to $50, and $5 above that. Tied bids will be awarded to earlier bidder. Winning bids should be paid within 10 days of Auction close. All successful bidders receive Prices Realized with Lots. All others may view prices realized on the website or receive a printed copy by sending a SASE to the address above.
Descriptions: In general, envelopes are regular size, typically #6, UOS. Franking is usually described. The use of "entire" is to indicate postal stationary. Selected images of the material are included on the website. For additional information, questions, and selected images, please contact the Auction manager
Abbreviations
OS = Otherwise Stated; UOS = Unless OS
APO = Army Post Office. Number is in cancel UOS
FPO = Fleet Post Office
PC = postcard; PPC = picture postcard
V-Mail = processed and with envelope UOS
OEF = Operation Enduring Freedom
OIF = Operation Iraqi Freedom
RO = roughly opened
Censor marks
NC = No Censor
C = Censored, varieties include:
SC = Self-Censored
BC = Box Censored
CC = Circle Censor
HC = Handwritten Censor
Civil War and beyond
1. Small cover from Lisbon Maine to 29th Maine volunteers in DC forwarded to York PA hospital. Roughly open on left. $12.
2. Car Bell patriotic, unused, farmer driving oxen and USA, fresh and fine. $15.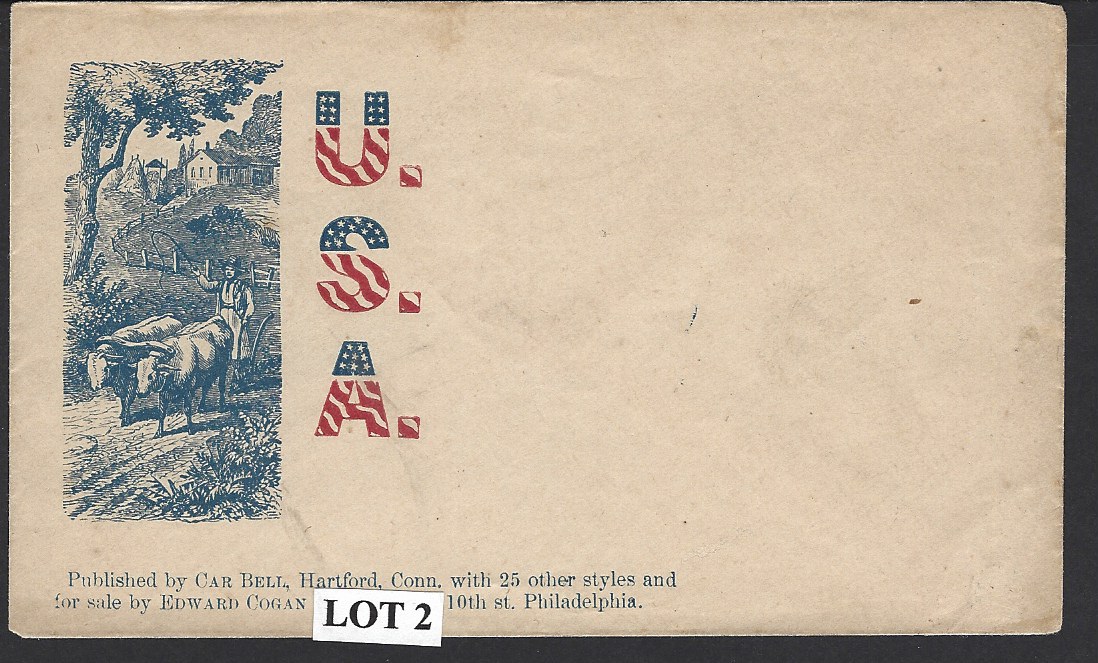 3. Office of Chief Signal Ofc. Washington DC. 1884 small covered postmarked Washington on stationary imprinted on the front. Pair of 2 cent stamps, to Glastonbury CT. Open roughly and trimmed on the right. $16.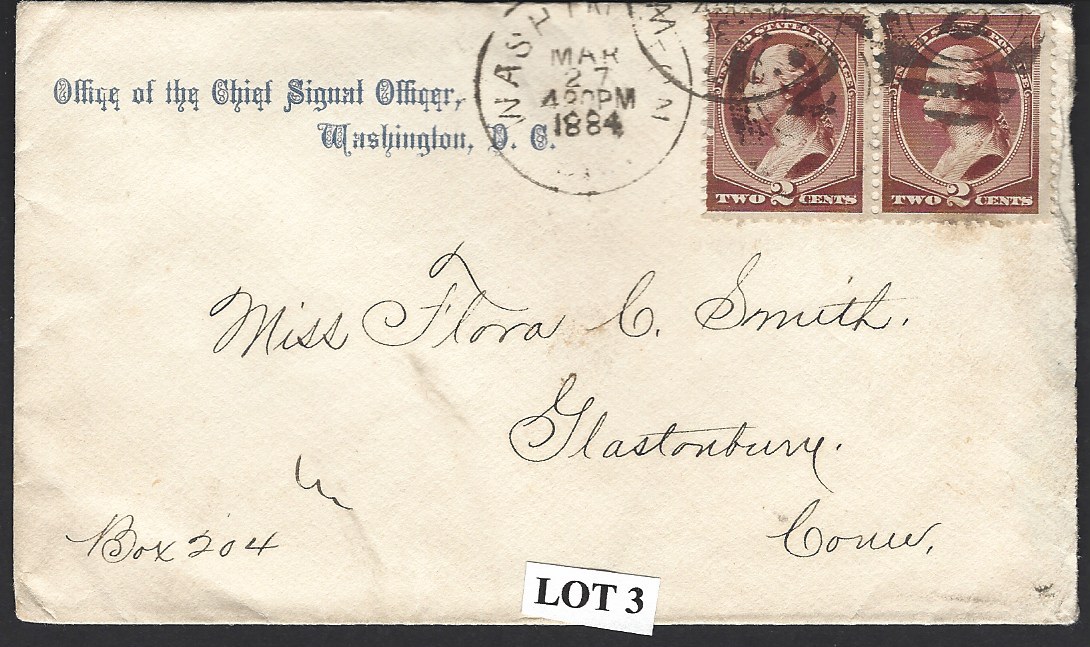 4. UK Dorset Regiment/Malta. July 1898 small size cover front with 1d Malta stamp sent to London. Imprinted "Col., Comdg.: 2nd Dorset Reg.t". $12.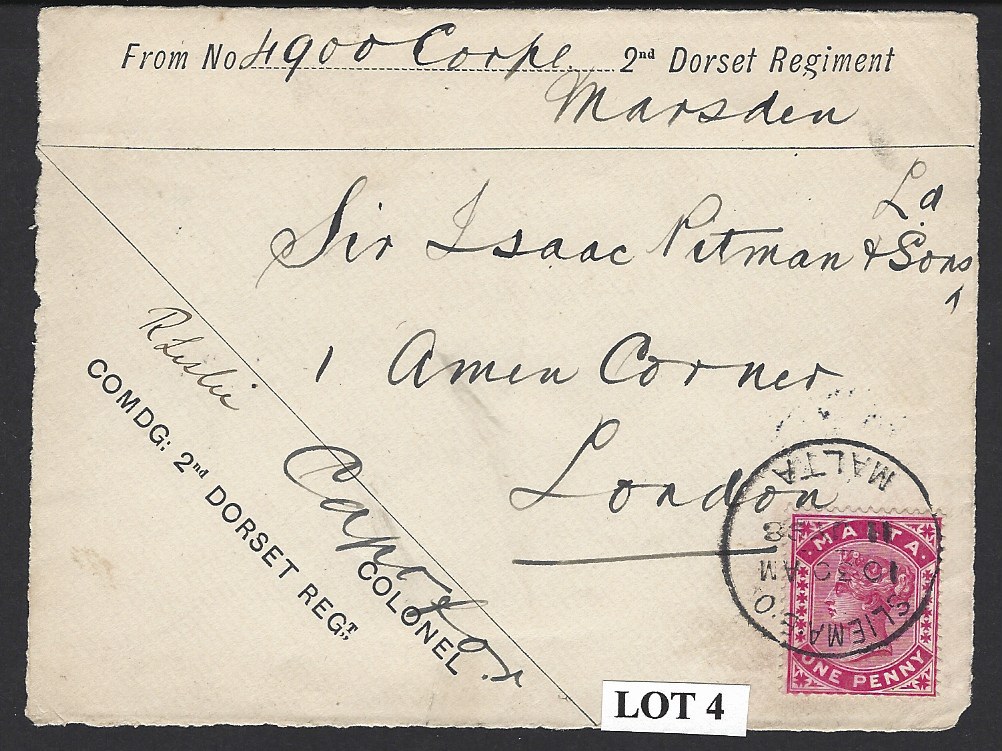 Spanish-American war
5. August 1898 commercial cover Worcester Mass. to 22nd and NY volunteers at Willets Point, Long Island NY. Attractive cover with nice usage of two cent trans-Mississippi stamp. $10.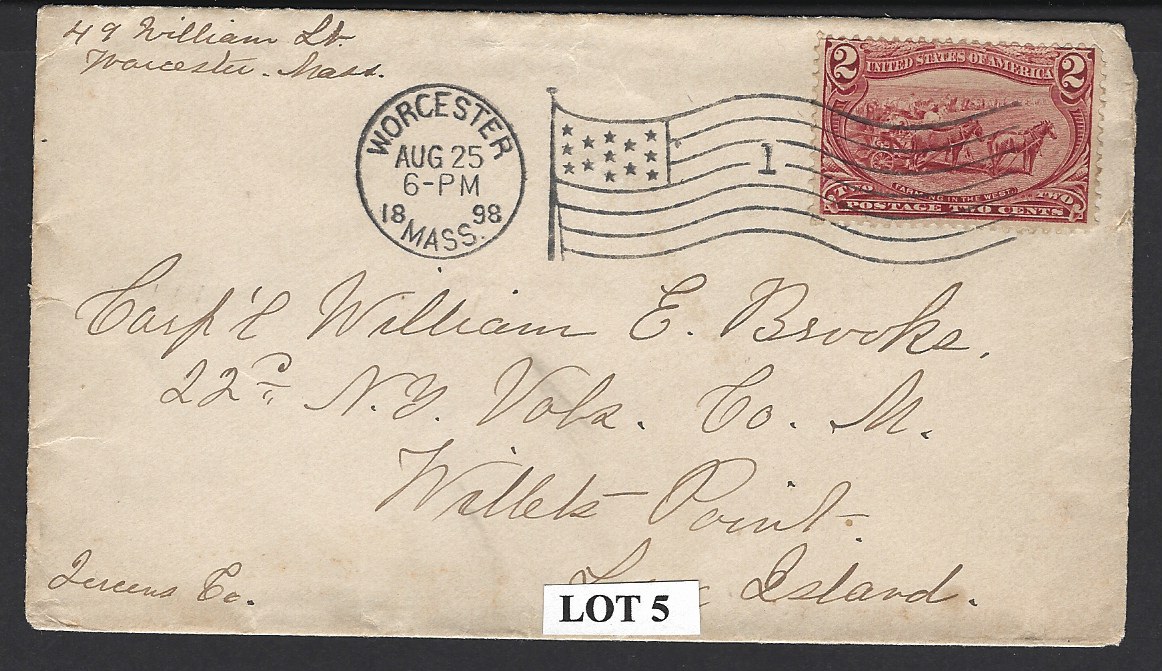 6. 2¢ postal stationery entire with printed return address of DAR Hospital Corps. 31 August 1898 postmarked "Washington DC Collection Wagon No 1", back stamp Rochester NY the next day. DAR Hospital Corps was forerunner of the Army Nurse Corps. During Spanish-American War, it certified 1000+ nurses for service with the Army on a contract basis. Back flap missing. $50.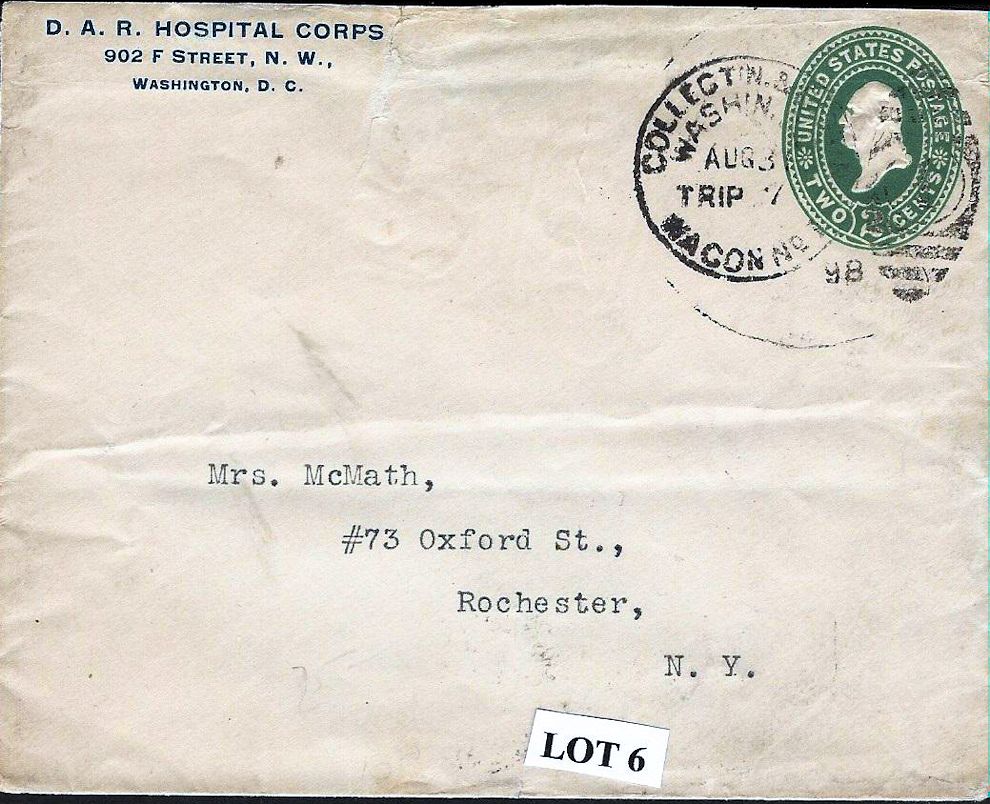 World War I
7. AEF. US France. 11 Nov. 1918, APO 702 4 PM postmarked on KOC corner card cover with base censor hand stamp. Armistice Day covers are uncommon. $50.
8. AEF. APO 837. French postcard with light postmarked dated 2 DEC 1918. $12.
9a. AEF. APO 702. Elysee Palace substation postmark. Type a9001 on French postcard in violet. Light FEB 1919 postmark, about 60% visible with bright rose censor mark (no. 84). $10.
9b. Greece. Anglo-French operations 1918. English language censor tape (print code indicates produced in Salonika" tied by French hand stamp on commercial cover from Chania, Crete to US. Probably this was censored locally. $35.
10. Siberian intervention. June 1919 registered cover from Harbin Manchuria to YMCA Tientsin China using 12¢ Chinese postage. Printed corner card of YMCA Manchuria, from Hugh Moran. Moran, a Presbyterian minister and Rhodes scholar, was a special aid to the Root diplomatic mission to Russia in 1917, and was with the YMCA in Russia in 1918 and over to Manchuria. An excellent example of nonprofit organizations involved in the intervention. $120.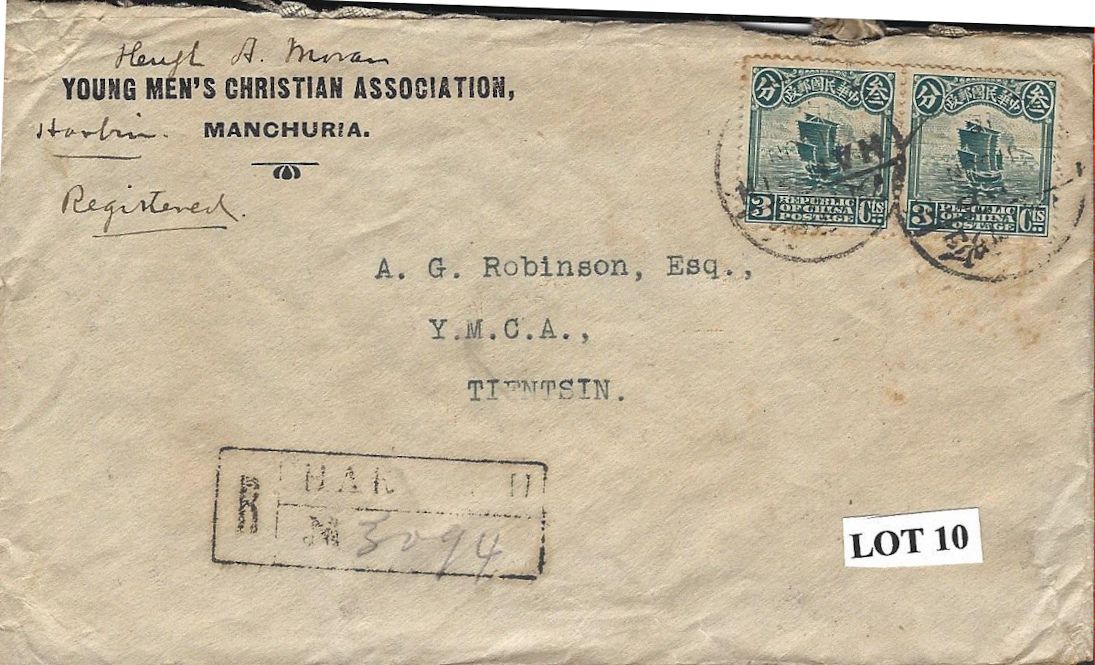 11. Adm. James Cary Jones. Small cover to his wife from London NOV 1918 with British civil censor tape. Jones graduated US Naval Academy 1913 retired vice Adm. $10.
12. Belgian Congo. Five centime postal card postmarked more 1917 "B PC V PA No.4" in violet. Postmark slightly smudge. Sent to France as a greeting card. Wear on the corners. $15.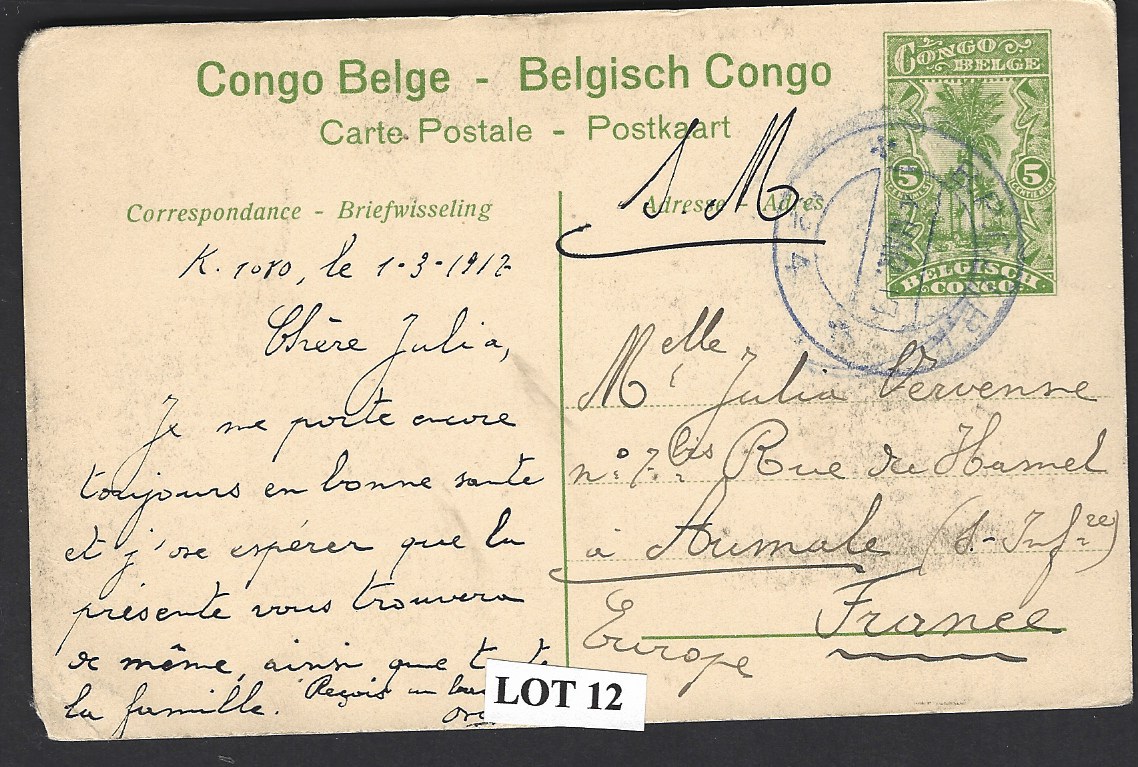 13. French "Correspondance des Armees de la Republique" cards a set of 12 unmailed each with a different branch vignette e.g. Chasseur Alpin. 1918. VF. $50.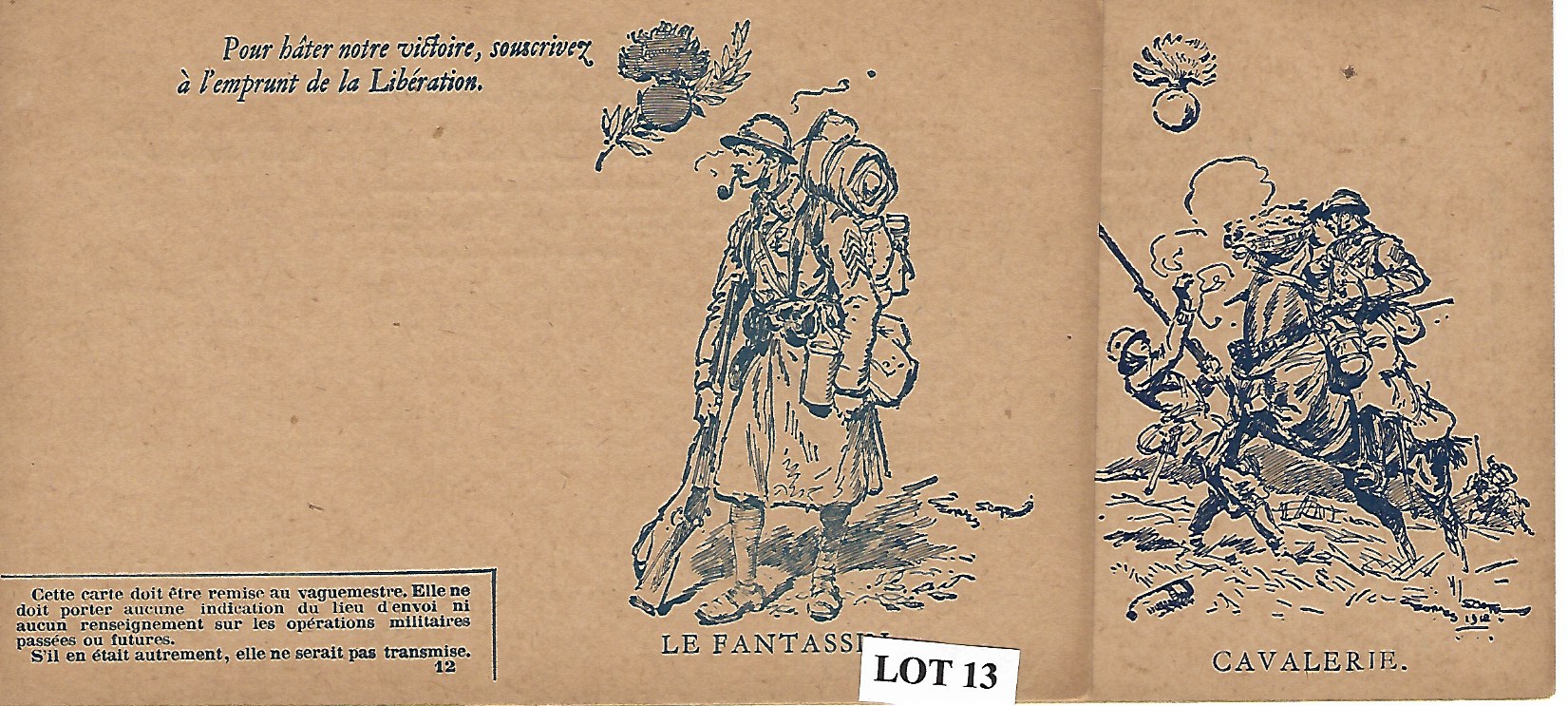 14. French "correspondence des Armees de la Republique" cards, six different mint, each with a different combination of Allied flags. VF. $20.
15. POW. Official US GOV POW postal card. Unused preprinted postal card issued to POWs. Small discoloration on back. $50.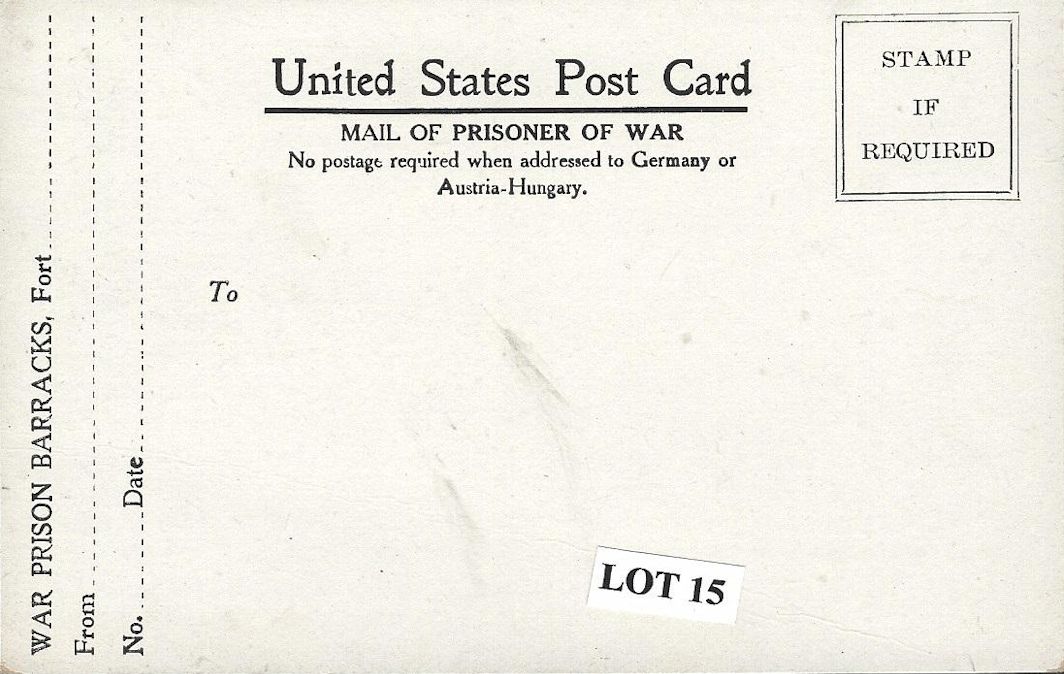 Between the wars.
16. US Philippines. 1919 Manila censor hand stamp 1814 on cover to US. Includes a long letter from a female to her girlfriend, in the vein of "this is truly a man's country. We are the only unmarried girls on the island save for 13-year-old child." $25.
17. US Navy. US Army transport "America". Small cover with CZ postage, postmarked FEB 1920. USAT America was in use from 1919 to 1921 only. $10.
18. US Navy. LCdr Amos Loder, USS Arkansas. Commercial cover from Mass. to his wife with a pair of 1¢ "pilgrim ship" commemorative. Sailing ship vignette on back. $8.
19. Armistice Day commemoration 1928. Preprinted postcard with idiosyncratic printed message. "Free souvenir, Armistice Day – November 11. Marking 10 years of peace with the world… Greeting cards scatter sunshine". Mint. $10.
20. USMC. Nicaraguan postal card franked with 1¢ Franklin. QSL card from NN1 Nic. Cancellation "USMC exp forces Nicaragua, New York, NY NOV 8 1929". Sender with aircraft sq. 2nd Bde. VF. $25.
21. USMC. Nicaragua. Small envelope franked with 15c airmail. Cancellation "Aircraft Squadron Second brigade USMC JUN 10 1930". Sender CPhM USN Guardia Nacional de Nicaragua, Managua Nicaragua via New York, NY. VF. $25.
22. US Army. Nicaragua. Envelope franked with 15c airmail with embossed "US Army engineer Battalion in Nicaragua" on back. Cancellation "5th REG USMC Managua Nicaragua FEB 4 1931". Sender Daniel Sultan was CO later LtGen Corps CO CBI. VF. $25.
23. US Navy. China. Penalty envelope Navy Department USS Helena. JUL 21 1930 cancellation with Canton A.M. China ST in killer bars. VF. $15.
24. GB. Royal Fleet auxiliary Rapidol. Small December 1931 airmail cover from London to engineer on RFA Rapidol, an oiler, HM dockyard Simonstown So. Africa. 3 ½ d postage in KGV definitive. Folded vertically through center. $8.
WW II
APO NY
25. Africa/Algeria. APO 700. Sender APO 45. 6/24/43. "Free franking." machine cancel. RC. VF. $8.
26. Africa/Egypt. APO 46. 3/14/43. Legal size envelope franked with 3¢ "win the war" also 3¢ postage due. RC. F+. $8.
27. Belgium. APO 138. Sender APO 151. 11/8/44. Franked with 6¢ airmail on 6¢ entire HC. F+. $8.
28. China. APO 627. 10/28/44. 308th Bomb GP. Free franking with RC. VF. $10.
29. China. APO 627. 11/14/44. 6¢ airmail machine cancel and RC. VF. $10.
30. China. APO 946. Free franking sent from US to "LTC Tuttle Shanghai Base Command". 19th BPO directory service and APO 946 canceler on reverse. VF. $12.
31. England. APO 413. 21 MCH 1945. Sender "care of American Embassy APO 413 NY." British machine cancel on 6¢ airmail entire. CC, RC plus tape. VF. $10.
32. France. APO 131. 12/10/44. Sender APO 15602. Sender indicates new APO 757 SHAEF HQ. 6¢ airmail entire with CC, RC plus tape. VF. $10.
33a. France. APO 156. 9/1/44. Curiously 6¢ bicolor airmail entire crossed out and marked "free" with RC. Addressed to Wales. VF. $10.
33b. France. APO 161. 1/18/45. Sender APO 259. War Department penalty envelope addressed to Army Times. Annotated "kill after 2-10– 45". NC. VF. $10.
34. France. APO 403. 11/11/44. US forces penalty envelope. NC. VF. $6.
35. France. APO X57. 21 SEP 1944. Machine cancel on 6¢ airmail entire. RC. F+. $8. 107.
36. France. APO 444. 3/8/45. 70th AIB. Machine cancel on 6¢ airmail entire RC. VF. $10.
37. France/Netherlands. APO 451. 2/20/45. 75th INF attached BR VIII Corps Limburg Netherlands. 6¢ airmail on small envelope. RC. VF. $10.
38. France. APO 461. 2/12/45. War Department penalty envelope. Intra-theater mail. NC. $6.
39. France. APO 470. 1/14/45. War Department penalty envelope. Intra-theater mail. NC. $6.
40. France. APO 472. 10/11/45. 101st Abn Div. War Department windowed penalty envelope. Addressed to penitentiary Lewisburg PA with wardens receiver. NC. VF. $8.
41. France. APO 577. 8/24/44. Sender APO 403. Franked with 3¢ "first steamship" and 3¢ "Centenary of the telegraph". RC. Creased. $8.
42. France. APO 291. 1/28/45. Sender APO 758. 6¢ bicolor airmail entire. RC. VF. $10.
43. France. APO 768. 1/14/45. Sender APO 017796. 6¢ airmail. RC. VF. $8.
44. Germany. APO 162. 4/28/45. Sender APO Airmail envelope franked with 1¢ "freedom of speech" and 5C occupied nation/Albania. RC. VF. $10.
45. Gibraltar. APO 512 in return address. 11/5/42. 7th Station Hospital. Free franked cover RC. This APO was at Gibraltar 5–24 November during Operation Torch. VF. $50.
46. India. APO 465. 11/12/44. Sender Navy 918. 6¢ bicolor airmail entire marked postage due 6 cents. Enclosed greeting card map of India and seasons greetings. Naval censor. Wrinkled. $10.
47. India. APO 465. 10/12/44. Improvised penalty envelope from PRO HQ AAF IBS CBI Theater APO 671. Stamped "passed for publication US Army press censor Emmanuel G…. 61207 China Burma India". Fold and tape stains. $10.
48. India. APO 493. 10 4/44. War ballot. VF. $8.
49. India. APO 629. 9/10/43. Free franking. Sender with First Transport Group Polo Detachment. HC. VF. $8.
50. Italy. APO 363. 10/7/44. Sender APO 369. Free franking. RC. VF. $8.
51. Italy. APO 512. 2/3/45. Sender M GEN. Daniel Noce DCoS Mediterranean TO. 6¢ airmail entire with Flushing New York cancel. Self censored with CC and tape on reverse. VF. $20.
52. Northern Ireland. APO 813. 5/11/42. Free franking. RC. VF. $10.
53. Trinidad. APO 695. 5/25/44. Return address C/O postmaster New York (book says Miami). 6¢ airmail. CC plus tape. VF. $10.
APO Miami
54. Brazil. APO 676. 8/2/XX. Sender USN, JB USMC. 6¢ airmail. NC. Missing part of back flap. $6.
55. Cuba. APO 632A. 9/15/45. Sender civilian. 6¢ airmail entire. NC. VF. $10.
56. Sudan. APO 608. Pair of covers Mar/April 1943 (one small, one European size with wrinkles on upper edge) from air transport command 13th Ferrying Command,44Sq. in Khartoum. $30.
APO San Francisco.
57. Australia. APO 921-2. 8/25/44. ARC envelope franked with 3¢ "win the war". CC. VF. $8.
58. Australia. APO 924. 6/15/42. Nurse with Second Station Hosp. Good enclosed letter describes sailing from US and arrival. Free franking. HC. VF. $8.
59. Canton Island. APO 914. 8/17/42. 6¢ airmail entire with additional 3¢ "win the war" and San Francisco machine cancellation. "passed by army censor 762". Curious. VF. $20.
60. Hawaii. APO 951. 9/21/43. Franked with 16¢ special delivery, marked "claimed at San Francisco Calif PO" RC. Fold at left. $10.
61. Hawaii. APO 954. 8/24/42. 6¢ bicolor airmail entire. "Passed by army censor 180". VF. $10.
62. Hawaii. APO 957. 8/31/42. Sender nurse at Schofield Barracks. Franked with 6¢ prexy. Censor "passed by army censor 229". VF. $10.
63. Hawaii. APO 958. 3/9/45. Sender nurse at Ft. Shafter. Franked 6¢ airmail. SC. VF. $10.
64. Hawaii? APO 996. 9/8/43. Patriotic "smash that Jap buy war bonds" image of cannon blowing away soldier and rising sun flags. Sender 123rd INF APO 33. APO 996 listed as Whitehorse Canada. Free franking. RC. Wrinkles at left. VF. $20.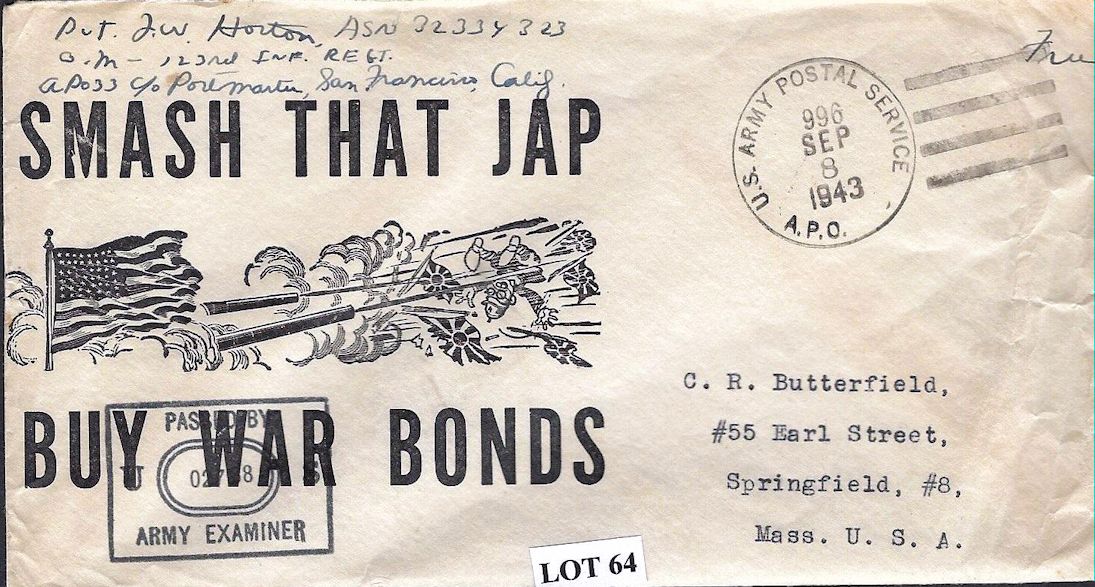 65. Okinawa. APO 27. 7/20/45. 6¢ booklet airmail on The Infantry Journal preaddressed envelope. Address change on reverse, formerly APO 21070. CC and tape. VF. $10.
APO Seattle/Minneapolis
66. Alaska/Kodiak. APO 937. 3/11/44. Machine cancel no APO. 6¢ bicolor airmail entire. RC. VF. $8.
67. Alaska. APO 938. 12/19/44. Franked 6¢ airmail. NC. VF. $8.
US Navy
68. USMC Johnston Island, 1942. Unit 995 return address on cover franked with 6¢ transport. USN postmark and censor hand stamp. $25.
69. USMC Johnston Island. 1943. Unit 995 return address on 6¢ airmail entire. Same sender, USN postmark as above. Different USN censor hand stamp. $25.
70. USN. Russian 1943, airmail cover return address from sailor c/o Mail and Dispatch section, ONI. Russian stamps postmark US FPO, Washington DC. USN censor hand stamp. Slight opening tear but attractive. $20.
71. US Navy/Coast Guard. USS Onondaga. Legal size cover with 11 cm straight-line hand stamped "confidential" on front. No address or postmark; probably hand-delivered. Likely used while Onondaga was involved in Alaska/Northern Pacific. $8
72. US Navy. Bermuda lend lease base. Bermuda sailing boat postcard using 10c prexy stamp with with FEB 1942 U.S. Navy machine postmark. "Passed by US Naval censor B. 1" censor. $8.
73. US Navy/USMC. Marine aviation detachment. Small cover imprinted on front from Naval air Tech Training Ctr., Jacksonville, FL October 1943. $8.
Other
74. US Caribbean Defense Command. Legal size penalty envelope Office of Division Engineer, Caribbean division in Miami. MAR 4, 1943. Scarce. $8.
75. US Army. Bombardier training squadron Kirtland field NM. "Free" cover, Christmas card sized, with Albuquerque DC 1943 postmark to Michigan. Small tear along upper edge. $8.
76. US base PO. 10 WW 2 covers. Five free franking. No APO's. $5.
77. US base PO. 10 WW 2 covers. Six free franking. No APO's. $5.
78. US Navy/Canada. Cover franked with 3¢ George VI (Canadian) and mute cancel. Sender: USNR C/O NCSO, HMC dockyard, Halifax. Handstamp on back "from HMC ship passed by censor" 3 MAR 42. VF. $15.
79. Canada/Australia. British Commonwealth air training plan in Canada. Pair of covers from Australian in flight training, Brandon Manitoba DEC 1942 to Minneapolis. Both include letters. Return address "Auspost, Ottawa, Canada". $18.
80. Canada. FPO DCA-5.Sept. 1942 parcel acknowledgment postcard for McDonald's, with cavalry guidon shaped "HQ SQN 1 CAD orderly room" sent to members of ladies committee 6th Hussars. $10.
81. Canada. Wren at NPO 109. June 1943 covers postmarked NPO 109 from member of women's Royal Canadian Naval service to New Jersey. Censor: "examined by DB/N 32". $8.
POW/Internee/Red Cross
82. Australian POW. 1944 airmail cover front only to LT. L. J. Martin, 2/29th Bn., AIF, Malaya with Australia district 3 civil censor and Kinoshita censor chop. $50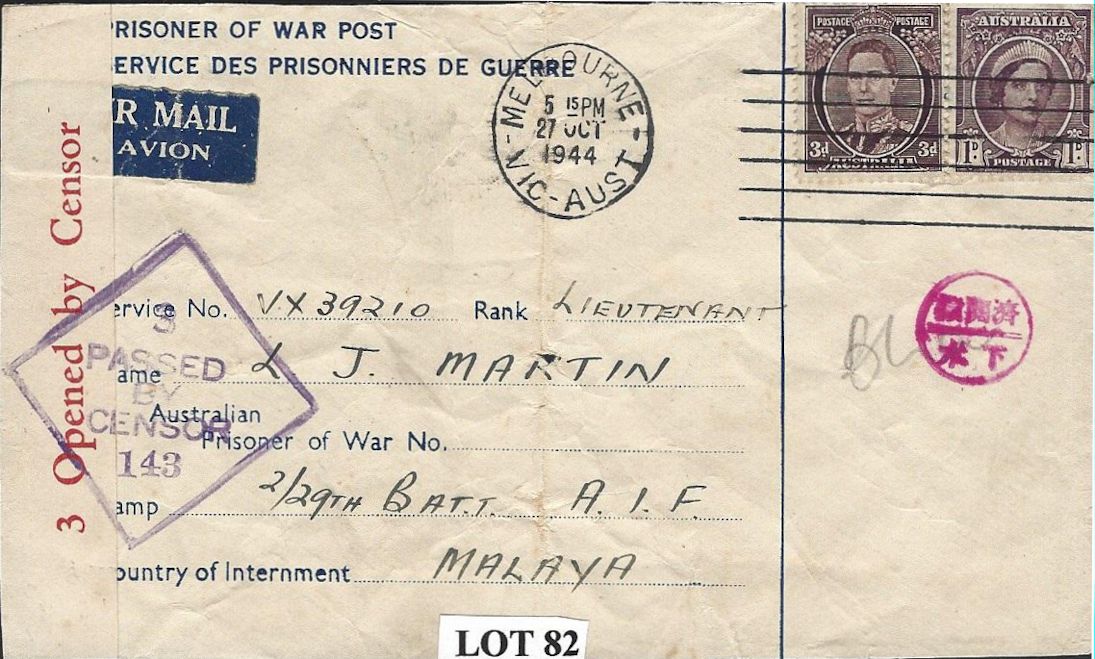 83. German POW Jamaica, 1943 POW parcel acknowledgment postcard Jamaica D/5 censor hand stamp in Berlin censor Landsmann BDM1.1. Two punch holes for filing at bottom. $50.
84. Italian POW. Folded letter dated 27.10.42. Stamped "P/W Middle East 140" front and "officio censura posta estera 1" on back from 309 POW camp cage for MEF. Some foxing. $30.
85. German POW. 22.7.46. Free franking addressed "22 BR gen. hospital AJ PW Camp" Naples. $20.
86. Netherlands. Civil internee. 14. X. 4? Unfranked, addressed to Sicherheitspolizei Hertogenbosch Lager Haaren. No censor/receiving Mark. VF. $20.
87. Italy. July 1942. Postcard from a civil internee in the campo di concentramento Citta S. Angelo to his daughter in Gorizia, with camp censor handstamp. Message and Italian. The population of this camp varied in size (Max about 135) and in nature of internees. $30.
88. Yugoslavia. 1945. Stamp was postcard from Linz Austria to Kula Serbia docketed "via American Red Cross" with Italian and Yugoslav censor handstamps. Part of addressees named bleached out. $25.
89. Romania. Letter to the International Red Cross/POW Geneva 26 MAR 43. Registered and marked "CENZURAT" with Geneva receiver. VF. $20.
90. France. Letter to International Red Cross Geneva. 18–11 40. Censor number, Wehrmacht tape and hand stamp on reverse. VF. $20.
91. France. Letter to International Red Cross/POW Francais. 7-2 45. Unfranked. Sent from hospital militarie. Uncensored. VF. $15.
Germany
92. Germany/Hungary. 1942 postcard from a German volunteer (gefreiter), unit not given. Sent through Hungarian PO with German civil censor. $15.
93. Netherlands. Registered letter with cancel "Durch Deutsche Dienstpost Niederlande 27. 1. 45." Franked with 42pf Hitler head. High-value franking. VF. $30.
Post-World War II
94. US forces in Europe, Seine section, French liaison. 6¢ postal stationery envelope with 11 BPO in January 1946 to Florida. $8.
95. Germany. DP mail. Unfranked; oval stamp "Estafatial Stovytes Pas… Hanau 1946 V" probably Lithuanian. VF. $15.
96. Kenya. May 1947 cover postmark Nairobi with 15d stamp to England. Includes rectangular, updated "post office RAF Eastleigh" in violent on front. Sender with 82nd PR squadron RAF, roughly opened the top. $12.
97. Netherlands. US Mutual Security Agency, special mission to the Netherlands for economic cooperation. May 1952 US Embassy legal size cover with Dutch stamps sent to Philadelphia. The Mutual Security Agency existed only from 1951 to 1953. $10.
98. New Zealand. Burnham military camp. DEC 1945 cover with 2d NZ stamp to Wellington. $8.
99. Sweden. U.S. Army attaché office. Legal size 1950 cover with typed return address with Swedish postage to US. Some tears top margin. Unusual. $8.
100. Greenland. APO 09023. Stamped "postage-paid port paye" with boxed T and "postage due__cents" markings also "VOIDED" over latter. Return address NATO Command Polar Research and Development Sct. Birmingham AL receiver 2/10/68. $20.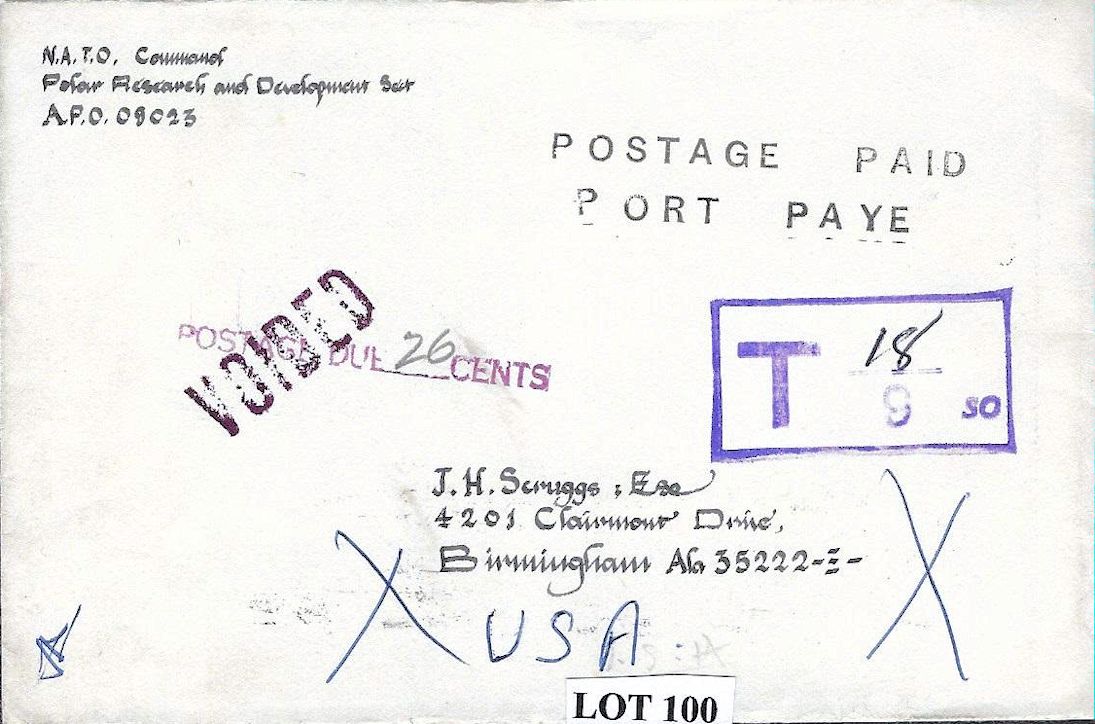 101. Desert Storm. Two covers APO 09896/APO 09766. Both sent to writing contest in US 1991. $10.
102. US Coast Guard. 9/11 security screening. A pair of Christmas cards sized covers from from 2010 in 2012 to USCG Washington DC bearing irradiation screening marks on reverse. Three marks in total, all different. $12.
UN operations
103. UNDOF. Poland. Two covers from Syria 1981 each with three stamped cachets, and stamped "Wojskowa-bezplatina" on airmail envelope. VF. $12.
104. UNIFIL. Canada. "Observer group Lebanon UNTSO" stamped cachet on UNTSO cancelled CFPO 5000 KOK 5RO 13 V 1986. VF. $8.
105. UN IFI L. France. Urgent and registered 8209 large envelope cancelled "poste aux armees 6-6 1986" with "Detachement Prevotal" verso. Some wrinkles. $12.
106. UNFICYP. Sweden. "Log section SWEDCON UNFICYP" stamped cachet on Swedish UNFICYP envelope. Stamps Cancelled "Svenska FN –BAT CYPREN 16.2. 87" VF. $6.
107. UNFICYP. Denmark. Unfranked cover with stamped Dancon/UNFICYP cachet cancelled DANCON UNFICYP 21 – 4. 1987. Addressed to CO/det 4 Kobenhavn. VF. $10.
108. UNTAG. Italy. Italian stamps cancelled "Sqd. ELC. Italia UNTAG Namibia Posta Militare" on UN aerogramme. Gaines 070 (a). VF. $10.
109. UNTAG. Canada. $3.40 Canadian postage on registered cover from CFPO 5004 cancelled with both United Nations and CFPO cancellation. Gaines 022 (a) & (c). VF. $12.
110. UNTAG. Germany. 80 PF stamp on UNTAG Namibia envelope with "Bonn 1 53000 1–3– 90" cancellation also two postage due markings. Gaines 052. VF. $10.
111. UNTAG. England. 34p Machin on OHMS envelope from Liaison Office Windhoek Namibia cancelled "London SW 11 JUN 1990". Gaines 145. VF. $8.
112. ONUCA. Canada." Naciones Unidas ONUCA" stamped cachet with CFPO – BPFC 5005 18 VI 1990 and roller cancellation CFPO-5005. Gaines 022 (a)& (c). VF. $8.
OEF/OIF
113. APO AE 09355. Afghanistan. 10/24/04. Free franking. VF $8.
114. APO AE 09379. Iraq. Sender APO 09344. 1st CAV. Mosul. Free franking VF. $8.
115. APO AE 09359. Iraq. OCT 22 2005. Free franking. VF. $8.
116. APO AE 09342. Iraq. Camp Victory. 11 NOV 2004. Armistice Day! VF. $8.
117. APO AE 09342. Iraq. FOB Stryker. JUL 28th 2007. Free franking. VF. $8.
118. APO AE 09310. Iraq. MAR 5 2011. Free franking. VF. $8.
119. APO AE 09311. Iraq. FOB Sharana. May 27 2011. Free franking. VF. $8.