Cover #4
This is our fourth offering of a featured cover on our web site and we ask you to send us your information and comments on this cover to help others understand it better.
Everything you contribute will be added to this web page as received and may end up making a bulletin article if appropriate.
---
Catholic Chaplains cover: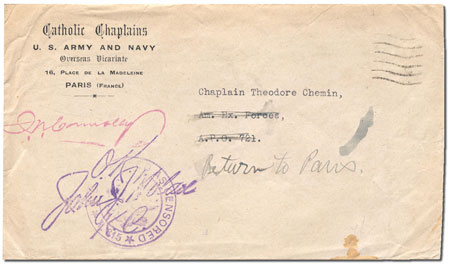 This Catholic Chaplains cover is very scarce and rarely seen. This particular cover has many positive aspects to add to its uniqueness. Under the printed return address is a rubberstamp signature of J.N. Connolly. This signature belongs to Right Reverend Monsignor James N. Connolly, Military Vicar-General, Overseas Vicariate. This cover is also stamped with a Type C-3 censor marking (#A.815) but bears a rubberstamp censor signature. That was unauthorized according to military regulations because signatures were to be signed in pen. The censor of this cover was John J. Nolan, a Knights of Columbus Overseas Secretary, who, according to military regulations, is unauthorized to be a censor. The authorized censor should have been a military officer assigned to the base censor office. The return address on this cover is also the same location of the Knights of Columbus Overseas Headquarters, so they probably shared the building with the Overseas Vicariate. Although the cover is not postmarked on the front, there is a Type A4001 postmark on the back from APO 702, Paris France. It is dated May 3, 1919.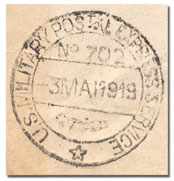 Sources:
Knights of Columbus in Peace and War; Egan & Kennedy; 1920
Postal History of the A.E.F.; War Cover Club; 1990.

Comments Received: