Featured Covers -- Item #2
This is our second featured cover on our web site and we ask you to send us your information and comments on this cover to help others understand it better.
Everything you contribute will be added to this web page as received and may end up making a bulletin article if appropriate.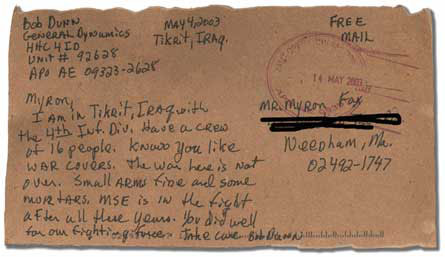 Operation Iraqi Freedom
May 2003: Improvised card written on an MRE Pack
One of my friends sent me this card from the early days at Tikrit. Previously he sent me some cards for the first Gulf War that were published in the MPHS bulletin at that time.
Mailed from APO-AE-09323 on 4 May 2003, but postmarked, 14 May 2003, from a different APO that looks like APO-AE-09357 but the digit 5 is hard to sure of. Received in the US the day after Memorial Day, 27 May 2003.
For you fine eating dilettantes it is written on the cardboard of an MRE Pack. (Country Captain Chicken).
Towards the end of my career I was the Chief Engineer on an Army Program called MSE (Mobile Subscriber Equipment) that involved basically establishing the tactical network for cell phones moving with the battle and being secure. This was used at Division and above.