LAFAYETTE ESCADRILLE
SPA 124
Introduction
This presentation was created by Ed Dubin, and is his property. However, he has offered to share this presentation freely with the public and members of the Military Postal History Society for educational and research purposes.
This presentation shows images, postal history, and information about the Americans who volunteered for the French air force during the First World War. The unit was eventually called "The Lafayette Escadrille".
Outline of Presentation
Origin
Membership
James McConnell & Henry Jones
From Falcons of France to American Eagles
William Thaw, Robert Rockwell & Kenneth Marr
Aftermath
Origin of the Lafayette Escadrille
Norman Prince and William Thaw came to France as experienced pilots to join the French Air Force (first enlisting in the French Foreign Legion to avoid swearing allegiance to France).
Both began lobbing for an all American squadron.
Dr. Edmond Gros , head of the American Hospital in Paris and with influential French and American expat connections, joined their efforts .
After initial French resistance the order was signed on August 21, 1915, to bring all the Americans then flying for France into a single squadron. The French had come to realize the propaganda value of an all American fighter squadron.
Escadrille N124* became operational on April 20, 1916. The first seven N124 pilots – Norman Prince, William Thaw, James McConnell, Bert Hall, Kiffin Rockwell and Elliot Cowdin
Initially named Escadrille Americaine. On 11/16/1916 changed to Escadrille de Volontaires. Changed again on 12/6/1916 to L'Escadrille Lafayette (English - Lafayette Escadrille ).
* French Squadron numbers included an abbreviation for the type of plane flown – "N" for Nieuport or "SPA" for Spad. The Lafayette Escadrille flew both.
Franco-American Flying Corps Committee
DR. Gros Commissioned as a Major in the AEF
Organized to cover the N124 support expenses.
American flyers received a monthly expense allowance of $20 a month (latter doubled to $40). Supplemented their French pay of 20 cents a day.
Pilots received a $200 bonus for each plane shot down and $50 to $300 for each medal awarded.
Dr. Gros continued to recruit pilots for N124 and additional pilots for what became known as the Lafayette Flying Corps (LFC).
Eventually the Corps consisted of 269 pilots - the 38 members of the Lafayette Escadrille (N124) and 231 American volunteers scattered through out the French Air Force.
Composite picture of the 38 American Lafayette Escadrille pilots
Composite picture of the 38 American Lafayette Escadrille pilots
Origin of the Indianhead Insignia
Seminole Indian Chief (11/1916). Savage Arms Co. trademark. Used as a guide.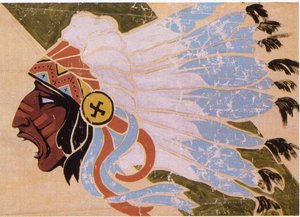 Sioux Indian Chief (Spring 1917) Reportedly adopted from a label on a bottle of French cognac.
Whiskey and Soda
Kiffin Rockwell, Willian Thaw and Paul Pavelka with new mascot. Paris 9/1916.
Whiskey and Soda eventually were placed in the Paris zoo.
Lafayette Escadrille SPA 124
In existence – April 20,1916 to February 18, 1918
Average age 26 - oldest 40 and youngest 20 (Average age of allied pilots 21)
11 sons of millionaires, 9 from upper middle-class, 14 average income and 4 rose up out of poverty
23 of the 38 pilots came from the east coast
30 of the 38 graduated or had attended college
25 had attended eastern schools (9 from Harvard )
From all walks of life – soldiers of fortune, adventurers, architects, engineers, students, playboys, polo-players and aviators
9 had some pre-war flying experience
Prior service in France -14 volunteer ambulance drivers & 8 from the French Foreign Legion
Motivation – Serve France, others be part of something greater than themselves
Casualties -8 killed in combat, 3 in accidents, 7 wounded & 3 taken prisoner
Credited Victories as SPA 124 – 33 (Raul Lufbery 16)
James McConnell
University of Virginia graduate
Ambulance driver (left in picture) Feb to Dec 1915.
Injured his back in an Aug 1916, crash landing. Letter written while in hospital.
Returned to combat with reduced head movement. Died in combat on March 25, 1917.
Cover from James McConnell (written in hospital)
Henry (Jonesy) Jones
Henry (Jonesy) Jones (driving ambulance)
Left Lehigh University in 1916 to enlist in the American Ambulance Field Service.
After six months joined the French Air Service. Joined the Lafayette Escadrille on 5/12/1917.
Never received credit for at least 5 enemy planes shot down behind enemy lines.
As a 1st Lieutenant assigned to the U.S.103rd Aero Pursuit Squadron. Assigned to U.S. in July 1918 as an instructor.

Henry (Jonesy) Jones return address
Henry (Jonesy) Jones with airplane
Henry (Jonesy) Jones With Insignia
Henry Jones proudly displaying the Sioux Indian Chief insignia that was cut from a 103rd Aero Squadron Spad and given to him when he left the squadron. Jones later donated the insignia to the National Air Force Museum (Wright-Patterson AFB, Ohio).
French Falcons to American Eagles
On 2/18/1918 the Lafayette Escadrille Passed out of existence and was assimilated into the U.S. 103rd Aero Pursuit Squadron.
The 12 remaining SPA124 American pilots stayed with the 103rd (along with 6 transfers from the Lafayette Flying Corps). William Thaw was promoted to Major and assigned as squadron commander. Most or all required medical waivers from General Pershing.
The squadron kept the Sioux Indian Chief logo and the Lafayette Escadrille name.
Escadrille SPA 124 remained on the books as a French squadron.
The 103rd became first operational U.S. pursuit squadron.
Over time as the U.S. Air Service grew members were reassigned to other squadrons as flight leaders and squadron and group commanders.
William Thaw
Only pilot to serve with the Lafayette Escadrille for its entire existence.
Was considered a "born leader"
Required a medical waiver to join the U.S. Air Service for defective hearing and vision, bum knee, and bad elbow.
Commanding officer of the 103rd Squadron. Latter promoted to Lt. Col. And given command of the 3rd Pursuit group.
Credited with 5 confirmed aerial victories- two with the Lafayette Escadrille and 3 with the 103rd.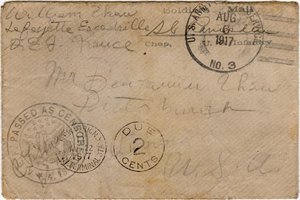 Robert Rockwell
Robert Rockwell, Pictured with British nurse (Miss. V. Brooks?)
Joined the 103rd and eventually became its commander.
After the war stayed in the Air Service reserves.
Returned to active duty in 1939 as a full Colonel
Served through WWII retiring in 1946.
Kenneth Marr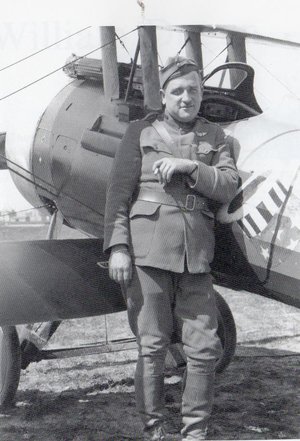 Kenneth Marr (note Hat-in-Ring insignia)
Joined the American Ambulance Field Service 12/1915 to 7/1916.
Transferred to Layfette Escadrille 7/1916.
As a as a fight commander assigned to the 103rd. Transferred to the 94th (Hat in the Ring) Squadron as Flight Commander. Promoted to 94th Squadron Commander.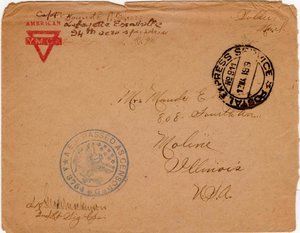 Lafayette Escadrille Memorial
Dedicated July 4,1928. Forty nine former Lafayette Escadrille and Lafayette Corps pilots are interned in the crypt below the memorial.
French Lafayette Escadrille
French WWII P40 Squadron. Maintained the Sioux Indian logo.
French Mirage 2000N. Escadron de chasse 2/4 La Fayette. Sioux Indianhead insignia on tail.
Lafayette Escadrille Pilots as Authors
The Story of the Lafayette Escadrille, Georges Thenault (French N124 commanding officer), 1921.
Flying For France, James McConnell, 1916.
One Man's War, Brett Hall and John J. Niles, 1929.
Kitchener's Mob, James Hall, 1916
High Adventure, James Hall, 1917.
The Lafayette Flying Corps Volumes I & II, James Hall and Charles Nordhoff (LFC ), 1919.
Fairy Lands of the South Seas (1921), Falcons of France (1929), Mutiny on the Bounty (1932), Men Against the Seas (1934), Pitcairn's Island (1934), Hurricane (1936), Botany Bay (1941), Men Without a Country (1942), The High Barbaree (1945) , James Hall and Charles Nordhoff (LFC),
The Great Adventure, Ted Parsons, 1937.
General Index
| | |
| --- | --- |
| 103rd Squadron (jones) | Jones, Henry (jones) |
| 103rd Squadron (jones2a) | Jonesy (jones) |
| 103rd Squadron (conversion) | Lafayette Escarille, French (french_lafayette) |
| 103rd Squadron (thaw) | Marr, Kenneth (marr) |
| 103rd Squadron (rockwell) | Memorial, Lafayette Escadrille (memorial) |
| 103rd Squadron (marr) | Military Postal History Society (main section,index) |
| 3rd Pursuit Group (thaw) | Nieuport (origin) |
| 94th Squadron (marr) | Norman Prince (origin) |
| Airplane Names (origin) | Origin of Lafayette Escadrille (origin) |
| Conversion from French to American (conversion) | Outline (outline) |
| Dates of Lafayette Escadrille (spa124) | Pay of Pilots (committee) |
| Dr. Gros (origin) | Photo of Pilots (composit_picture) |
| Dr. Gros (committee) | Pilots, Photo (composit_picture) |
| Dubin, Ed (main section,index) | Propoganda Value (origin) |
| Ed Dubin (main section,index) | Recruitment (committee) |
| Escadrille Naming (origin) | Rockwell, Robert (rockwell) |
| France (french_lafayette) | SPA 124 (spa124) |
| French Lafayette Escadrille (french_lafayette) | Savage Arms Logo (insignia_origin) |
| Gros, Dr. (origin) | Sioux Indian Chief Image (insignia_origin) |
| Gros, Dr. (committee) | Spad (origin) |
| Hat in Ring Insignia (marr) | Thaw, William (thaw) |
| Indian Head (insignia_origin) | William Thaw (origin) |
| Insignia Origin (insignia_origin) | Back to Top (General) -- Back to Top (All Document Indexes) |
| Introduction (main section,index) | |