The Military Postal History Society Quarterly Bulletin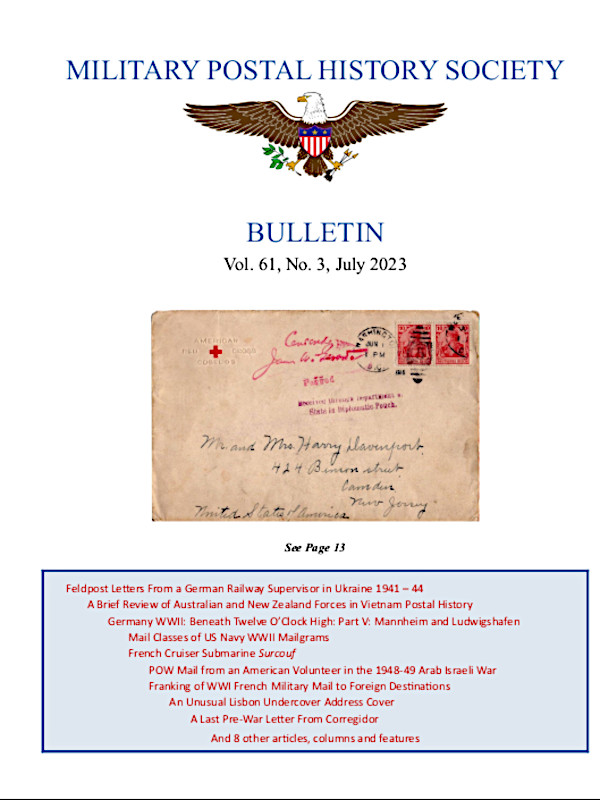 New Master Bulletin Index Now Available
MPHS member Russ Carter has created a new master index of Bulletins from 1937 to 2022. See: the links to the Master Bulletin Index 1937-2022. The now superseded index listed at the bottom of this page will be retained until the new Index project is complete.
Current Bulletin Issue
Third 2023 Issue - Vol 61 No 3
Featured articles in this issue include:
Feldpost Letters From a German Railway Supervisor in Ukraine 1941 – 44
A Brief Review of Australian and New Zealand Forces in Vietnam Postal History
Germany WWII: Beneath Twelve O'Clock High: Part V: Mannheim and Ludwigshafen
Mail Classes of US Navy WWII Mailgrams
French Cruiser Submarine Surcouf
POW Mail from an American Volunteer in the 1948-49 Arab Israeli War
Franking of WWI French Military Mail to Foreign Destinations
An Unusual Lisbon Undercover Address Cover
A Last Pre-War Letter From Corregidor
And eight other articles, columns and features
The issue includes a number of news columns, classified ads, book reviews, show reports, and articles of current Society business news.
Access to the electronic version of this issue is password-protected. Information on the electronic files can be found at: the MPHS Bulletin electronic version links page.
Publication History
The Military Postal History Society began as a small group of collectors meeting in May 1937 to form an informal War Cover Club and to provide information on military markings in a "War Cover Club" column in a Chicago publication called Postal Markings.


The club was formalized by adoption of a Constitution at a meeting in April 1938 during which a member's publication called "The War Cover Philatelist" was selected as the club's official bulletin.


The need for additional coverage of newly emerging World War II resulted in a second official club publication called "The War Cover Club Bulletin" which appeared until mid-1942.

Both publications ended during World War II due in part to restrictions on release of military marking information. The War Cover Club Bulletin reappeared in 1946 as an independent publication and continued until the name of the club, and its publication, was changed in mid-1991 to the Military Postal History Society. The quarterly issues of the Bulletin became identified by season beginning with Winter 1994.


The older index document, linked above, presents a listing of the articles both long and short, which have appeared in these publications during the period from May 1937 to the end of 2004.
Copies of articles of interest which have appeared in the War Cover Club Column and in the War Cover Philatelist can be provided by the American Philatelic Research Library.
More Links